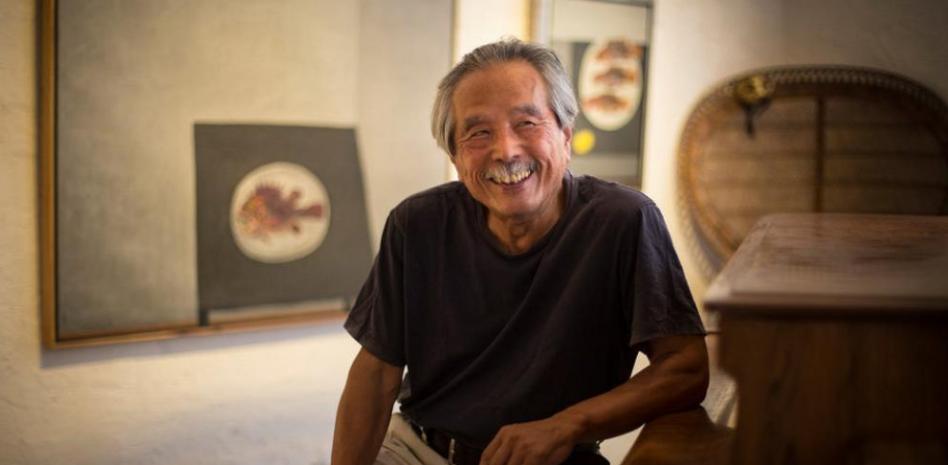 Born in Osaka in 1940.
WORK
Koyama's childhood was spent during World War II. His family had to move from the city to escape the bombing, so from his native Osaka, they moved to the outskirts of Tokyo to the home of relatives in Hachioji.
Koyama still clearly remembers the incandescent red of the incendiary bombs he could glimpse from the underground shelters. After the war, the family's financial situation went very well, which gave his family a period of comfort and allowed Koyama to go to drawing classes, which led him to a great interest in painting. Unfortunately his family's financial situation became more complicated and at the age of 18 Koyama passed the tests to work as a clerk in a company.
In 1965, at the age of 25, he moved to Tokyo where he has a studio and is already fully dedicated to painting and also gives drawing classes to children. In 1970, at the age of 30, he left the port of Yokohama and arrived in Paris via the Trans-Siberian Railway. After 6 months in Paris, he arrives in Cadaqués by chance.
In 1971, he signed a contract with the Kabutoya Gallery in Tokyo and for 20 years he exhibited with this gallery. In 1972, he returned to Cadaqués. At this time he met Richard Hamilton and Dalí, who were interested in his work. Later he moved to Barcelona, ​​Paris, Mallorca, Düsseldorf and Milan where he had several exhibitions.
He currently lives and works in Cadaqués. Koyma's work is heavily influenced by Eastern tradition, and does not usually have lights or shadows or perspective, almost always without figures.
Koyama considers East and West to be two extremes that do not confront but coexist in silence. He really likes the landscape and stays true to the theme. He paints a sunlight that does not exist and that is the last hour of the day, so the color that dominates his work is gray.
He can't paint a strong blue, as it doesn't come out even if it's the blue of the Mediterranean. Thus, his oils show us naked landscapes, exaggerated rocks and a sifted light and have become a characteristic image in his work so that viewers can immediately identify that it is a work of Koyama.
EXHIBITIONS
2016 Boutique de Jeanne, Saint Remy de Provence (France)
2015 Paul Riquet Gallery, Beziers (France)
Spazio Brentano, Milan (Italy)
2014 Martel Greiner Gallery, Paris (France)
Boutique de Jeanne, Saint Remy de Provence (France)
2013 Boutique de Jeanne, Saint Remy de Provence (France)
2009 Espai Cavallers Gallery 31-33, Lleida
Russinyol Room, Sant Cugat del Vallés
El Carme Gallery, Vic
2007 Hopiliart Loureux Gallery, Paris (France)
El Claustre Gallery, Figueres
2005 Rusiñol Room, Sant Cugat del Vallès
Galeria l'Arcada, Blanes
2004 Patric Donken Gallery, Cadaqués
2003 Artistic field, Cadaqués
2002 Art Fund, Olot
Artistic field, Cadaqués
2001 Maria Salvat Gallery, Barcelona
Galeria l'Arcada, Blanes
Kroma, Sant Feliu de Guíxols
2000 Art Fund, Olot
El Carme, Vic
1999 Artnau, Girona
Shokando Gallery, Kyoto (Japan)
Contemporary Art Gallery, Sant Feliu de Guíxols
1998 Art Fund, Olot
El Carme, Vic
Artistic field, Cadaqués
1997 Sala Fortuny, Barcelona
Sala Güell, Barcelona
1996 Art Fund, Olot
Galeria l'Arcada, Blanes
Benedormiens Castle, Castelldaro
1995 Sala Fortuny, Barcelona
Palau de Caramany, Girona
1994 Peralada Castle, Girona
1993 La Pinacoteca, Barcelona
Tavira Gallery, Bilbao
Shokando Gallery, Kyoto (Japan)
1992 Palau de Caramany, Girona
Cadaqués Gallery, Cadaqués
1991 La Pinacoteca, Barcelona
Oda Gallery, Terrassa
Bearn, Mallorca
1990 Palau de Caramany, Girona
Cadaqués Gallery, Cadaqués
1989 Maria Salvat Gallery, Barcelona
1988 Bearn, Mallorca
La Pinacoteca, Barcelona
Cadaqués Gallery, Cadaqués
Palau de Caramany, Girona
1987 La Pinacoteca, Barcelona
Umeda Gallery, Osaka (Japan)
Aoki Gallery, Toyama (Japan)
1986 Bearn, Mallorca
Cadaqués Gallery, Cadaqués
1985 Kunst Amendt, Aachen (Germany)
1984 Kunsthaus F.G. Conzen, Düsseldorf (Germany)
Deutsche Industrieschau, Tokyo (Japan)
Cadaqués Gallery, Cadaqués
1983 Kunsthaus F.G. Conzen, Düsseldorf (Germany)
La Pinacoteca, Barcelona
Cadaqués Gallery, Cadaqués
1982 Nomen Gallery, Barcelona
Meudon Museum, Paris (France)
Cadaqués Gallery, Cadaqués
1981 Cadaqués Gallery, Cadaqués
Sa Llumanera Gallery, Cadaqués
Andorrart Gallery, Andorra
Sant Jordi Gallery, Girona
1980 Japanese shop, Geneva (Switzerland)
1979 Sant Jordi Gallery, Girona
Art3 Gallery, Figueres
Sant Lluc Gallery, Olot
Cadaqués Gallery, Cadaqués
1978 Cadaqués Gallery, Cadaqués
Eude Gallery, Barcelona
1977 Kabutoya Gallery, Tokyo (Japan)
1974 Ginza Matsuzakaya, Tokyo (Japan)
Central Gallery, Osaka (Japan)
1971 Kabutoya Gallery, Tokyo (Japan)
For more information on the Artist Shigeyoshi Koyama at Espai Cavallers Gallery