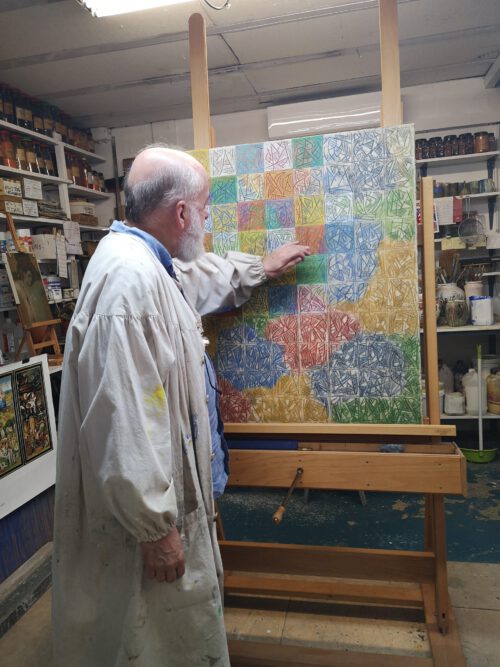 Sergi Barnils i Basomba és un pintor català nascut a Bata (Guinea Equatorial) l'any 1954 que treballa al seu estudi de Sant Cugat del Vallès.
El 1965 va començar a estudiar al Departament d'Art de Viaró amb Francesc Casademont. Després de guanyar dos premis extraordinaris en el VIII Certamen Nacional i Provincial Juvenil d'Art de Barcelona i després d'estudiar, entre altres centres, a l'Escola del Treball de Barcelona, el 1975 va cursar estudis a la Facultat de Belles Arts d'aquesta ciutat.
Les seves primeres pintures eren realistes i també va treballar amb ceràmica, i de mica en mica va anar agafant un estil abstracte amb influències africanes i personatges estilitzats. Rep influències de Joan Miró i Paul Klee. Gairebé tota la seva obra s'inspira en la relació espiritual amb Déu i se'n nodreix. Així ho demostren els títols de les seves pintures i tota la seva iconografia particular. En l'etapa de maduresa és quan més treballa amb la tècnica pictòrica de l'encàustica.
Expocicions:
2021
"Cambra Confinada – Minut 1 del 2021" Curator: Glòria Bosch,Canals Galeria d'Art, Sant Cugat del Vallès (Spain) January to March.
"Ànima i espiritualitat" Fundació Pinnae Vilafranca del Penedès (Barcelona) March-April. "Cambra Confinada" Galeria Atelier (Barcelona) April-May. "Cambra Confinada " Espai Cavallers (Lleida) July.
2020
"Espai Casa Amatller" Barcelona (Spain). "Jaspi" Curator: Frederic Cabanes. Text by Ramon Balasch. Fundació Cabanes, Casa-Museu del Gerrer Sant Cugat del Vallès (Barcelona). "Pedra Cèlica" Marco Rossi Arte Contemporanea – Milan – Italy. Rohnerhaus – Bregenz. Austria – Courtesy of Klaus Drobig.
2018
"Ciutat Engalanada" Franca Pezzoli Arte Contemporanea Clusone BG (Italy)."La Capuccina" Marco Rossi Arte Contemporanea. Borgomanero (Italy)
2017
"Sergi Barnils – Revelació" Palazzo Anguissola di Cimafava Roca. Piacenza (Italy) Curators: Prof. Ignacio Arroyo and Mr. Nino Sindoni.. "La sublimitat de l'ordre còsmic " Galérie St. Jacques– Charity Auction organized by Vida y Libertad ONG-Barcelona – Brussels (Belgium). "Maran-Ata" Fundació Vila Casas – Curators: Glòria Bosch, Daniel Giralt-Miracle. Exhibition director: Isabel Gómez Rovira
For more information on the paints a Espai Cavallers Gallery