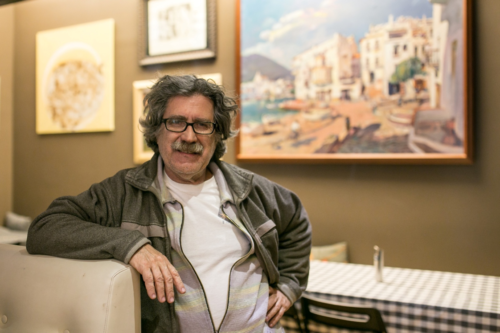 The artist Josep Moscardó was born in Barcelona in 1951. He studied at the Escola de Belles Arts de Sant Jordi and at the Escola de Llotja in Barcelona.
WORK
The painter Josep Moscardó penetrates the complexity of color and shines it in atmospheres day and night. True to nature, it shows us an optimistic view of its surroundings and its travels. At the same time, with certain fave references, offering us expressiveness and an understandable dialogue, open to the presence of the figure, to that of the urban landscape.
Josep Moscardó's painting is essentially bright. The themes of this great colorist alternate between urban views and landscapes. He is in love with Passeig de Gràcia, the surroundings of Tibidabo, the port and other favorite surroundings of Barcelona, ​​as well as Cadaqués, Menorca and the Costa Blava.
Josep Moscardó is one of the few artists who currently still paints in the natural and captures the poetics of everyday life. He does not intend to describe reality meticulously in a more photographic format, but to go directly to the grain, to the core of the essence of what he wants to express.
A restless and prolific sculptor, he relies on the synthesis of the forms and technique of collage. For many years the original graphic work has also been an important part of its creation. Since 1998 he has been linked to La Palmera, an artistic screen printing workshop.
EXHIBITIONS
He has had solo exhibitions in the United States and Spain, and has participated in group exhibitions in the United Kingdom, the United States, Hong Kong, Japan, Spain, Italy, and Switzerland, among other countries. As individual exhibitions we can highlight: Galeria Espai Cavallers 31-33, Lleida (2016), Sala Parés, Barcelona (2015).
Also in group exhibitions such as: "Interiors and workshops" Sala Parés, Barcelona (2011), "From the city to the sea" Sala Parés, Barcelona (2010)
For more information on the painter at Espai Cavallers Gallery