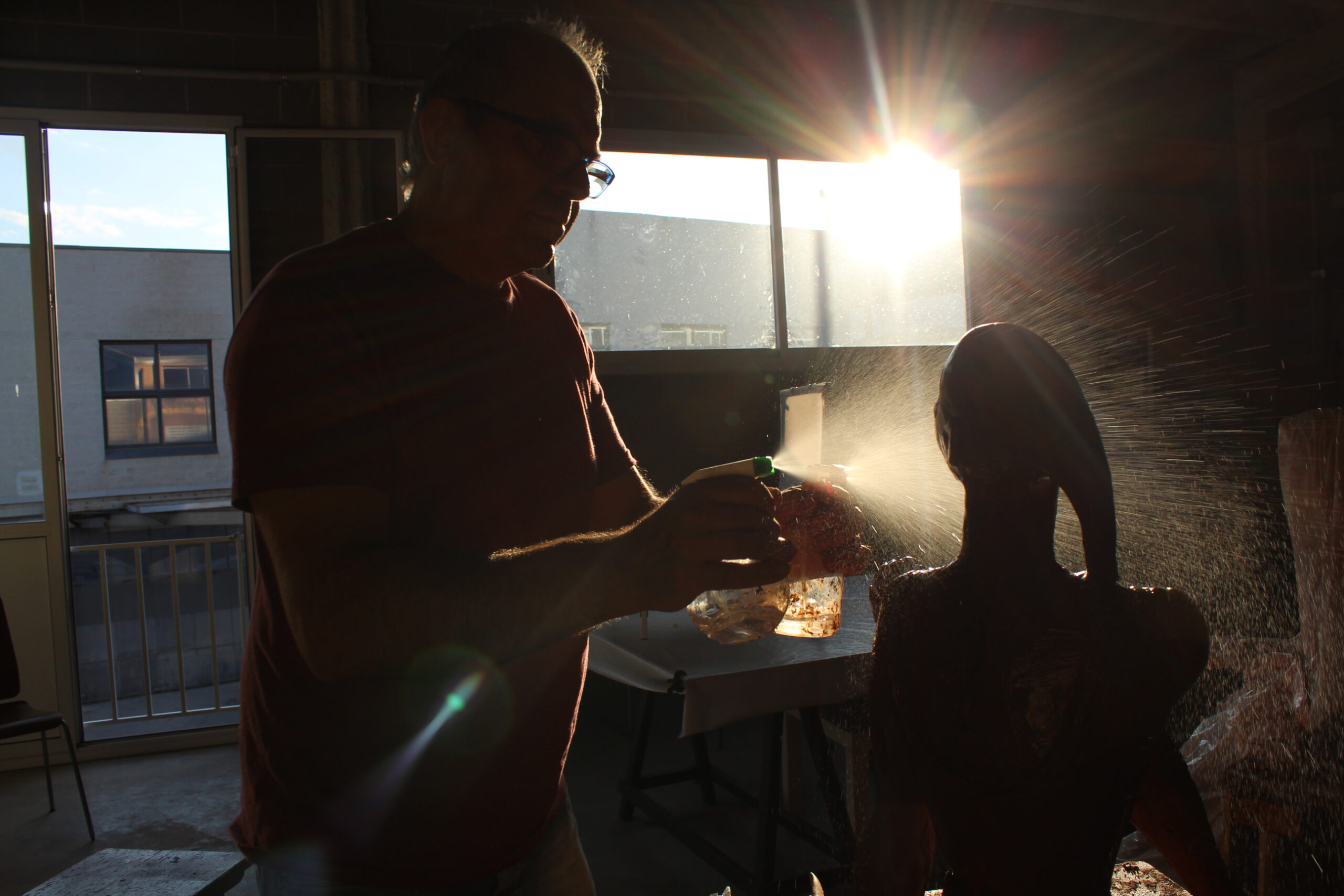 The artist Joan Artigas Planas was born in Vilassar de Dalt in 1960, (Barcelona). He has a degree in Fine Arts (University of Barcelona). Also professor of sculpture at the Pau Gargallo School of Art and Design in Badalona.
WORK
The sculptor from Vilassar de Mar, Joan Artigas Planas, has been one of the Catalan artists who has exhibited the most in galleries and art fairs throughout Europe for almost a decade. He currently works regularly in art galleries in France, Germany, Denmark, the Netherlands and Sweden.
The protagonist, without a doubt, of Artigasplanas 'work is the woman, a timeless, lonely, mythological woman who rests precariously on inaccessible constructions or making great efforts to overcome everyday walls.
The warm, sensual bronze woman dances on a rusty steel structure. A base that rises imposingly, creating a contradiction between the two pieces. However, in the works of Artigasplanas the geometric base and the figure find a surprising harmony. The sculptor manages to make the little goddesses coexist with everyday life. Reflecting the efforts, the joys, the day-to-day dreams in their expression.
Although at first glance, the work of Artigasplanas seems pleasant, easy to read and without traps, his work is complex and above all, very personal.
Teaching and sculpture are the great passions of this artist.
LATEST EXHIBITIONS AND ART FAIRS
2017
Comas Gallery (Barcelona)
2016
Art Herning, Rasmus Gallery (Herning, Denmark)
Art Innsbruck, María Aguilar Gallery (Innsbruck, Austria)
Affordable Brussels, Maria Agilar Gallery (Brussels, Belgium)
Gallerie Rasmus (Copenhagen, Denmark) Duo exhibition
Galerie de L'Ecusson (Montpellier, France) Solo exhibition
Galleries Helle (Stockholm, Sweden) Duo exhibition
Murillo Art Room (Oviedo)
Almoneda, María Aguilar Gallery (Madrid)
Nordic Art, Rasmus Gallery (Copenhagen, Denmark)
North Art Fair, Rasmus Gallery (Aalborg, Denmark)
Copenhagen, Gallerie Rasmus (Copenhagen, Denmark)
Galleries NP33 (Nörrkoping, Sweden) Solo exhibition
Donostiartean, Mirror Gallery (San Sebastián)
ST-Art Strasbourg, Maria Aguilar Gallery (Strasbourg, France)
Art 3F Luxembourg, María Aguilar Gallery (Luxembourg)
AbahamArt Gallery (Eindhoven, Netherlands)
Almoneda (IFEMA) María Aguilar Gallery (Madrid)
2015
El Quatre Gallery (Barcelona)
Rasmus Galleries (Odense, Denmark)
Hillerod kunstdage, Gallerie Rasmus (Hillerod, Denmark)
Art Herning, Rasmus Gallery (Herning, Denmark)
Kunst Messe Frankfurt, Maria Aguilar Gallery (Frankfurt, Germany)
Affordable Brussels, María Aguilar Gallery (Brussel.les, Belgium)
Art Up, Galerie de l'Ecusson (Lille, France)
Antikmassan Stockholm, Helle Knudsen Gallery (Stockholm, Sweden)
Llavaneres Museum (LLavaneres)
Art3F Rennes, Galerie Bouillon Art (Nice, France)
Donostiartean, Mirror Gallery (San Sebastián)
Beirut Art Fair, Bouillon Art Gallery (Beirut, Lebanon)
Art Copenhagen, Rasmus Galleries (Copenhagen, Denmark)
Affordable Art Fair Stockholm, Galleries Helle (Stockholm, Sweden)
Art3F Nice, Galerie Bouillon d'Art (Nice, France)
Art Seville, María Aguilar Gallery (Seville)
Art Oviedo, Murillo Gallery (Oviedo)
Art3F Mulhouse, Galerie Bouillon d'Art (Mulhouse, France)
ST-Art Strasbourg, El Quatre gallery (Strasbourg, France)
For more information on the artist Joan Artigas Planas at Espai Cavallers Gallery