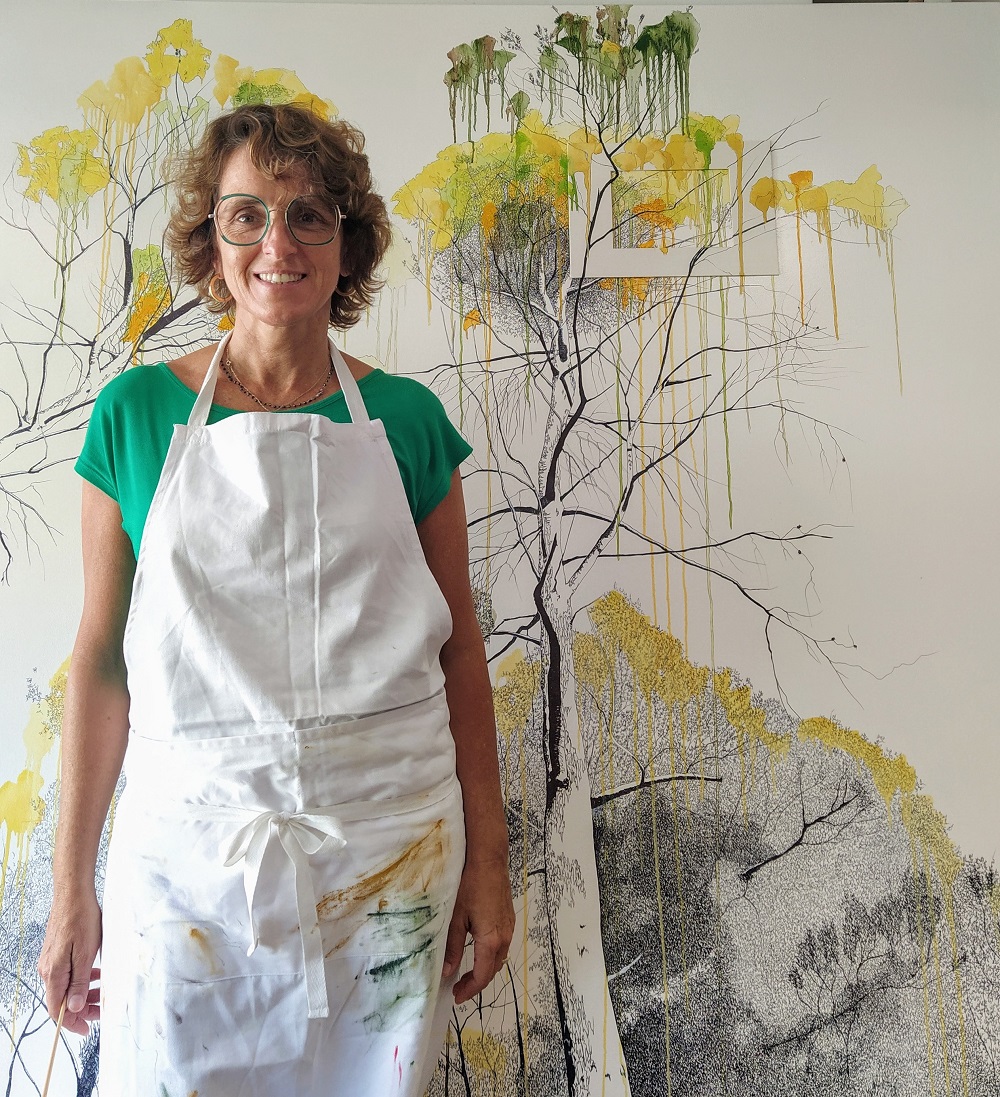 Tatiana Blanqué is a visual artist born in Barcelona (Sant Cugat de Vallès, 1971) and holds a degree in Fine Arts from the Sant Jordi Academy (UB).
With a career of almost two decades dedicated entirely to his vocation, he has obtained both national and international projection having exhibited in cities such as Rome, New York, Amsterdam, Paris and Andorra la Vella, as well as in Barcelona, ​​Girona, Lleida, Valencia, Pamplona, ​​Bilbao and Madrid.
Descendant of a family related to the world of fashion, photography and design for several generations, Tatiana has been linked to the world of painting since she was very young. This passion for creativity has marked his entire artistic career, just as the search for a reason for being has been reflected in each of his collections since the first exhibitions in the late 90s.
"My need to always find a way out and my insistence on understanding how our environment can affect us so directly and we to him have been and continue to be my engine. I want to find authenticity in our reality, be it the whatever it is, I like how and in what way we reflect in mirrors and how our own shadow delimits our reason for being.I like to choose small pieces of reality and close them in geometrically perfect spaces, although transparent, "I like nature to be the filter to be able, at the same time, to vindicate the extreme need that exists in protecting and respecting what it has given us and will always give us life, nature." explains the artist.
Consistent in his work and conceptualization, he conceives art as a need to express his emotions and feelings and as a platform from which to dialogue about current consciousness. With the conviction that art and nature are united by indestructible ties, his work philosophy pays homage to the importance of simplicity, the organic, the natural and, above all, the authentic.
"Nature, which is directly part of my life, offers me the opportunity to enter my thoughts. Its purity, its nakedness, its diversity, its disorderly order, its semi-noisy silence , their feeling of collective loneliness, their lights and their shadows ... All this, in contrast to the timeless blank canvas, explaining what everyone wants to read. Personal, true, silent sets, mine and yours ".
The tree and the land we tread, in a context without time limit, define Tatiana's current work and convey her concern to prevent the natural landscape from disappearing. In this way, his artistic project acquires the character of a vindictive ideology: "natural habitat must continue to guide and accompany us. We cannot let it fall behind due to the hand of man..."
There was a time when Tatiana's inspiration resided in the interior space rather than the exterior. Its beginnings, marked by color and oil painting on canvas, were starring characters, domestic environments and small things (tables, old glass cups, chairs...). The stain, little by little, began to give way to the line. A straight and architectural line used to delineate empty spaces
-But full of color- accompanied by naked figures surrounded by everyday life.At this stage, being was, for Tatiana, the nexus between the environmentand society.
With the appearance of windows in his imaginary, the exterior began to predominate over people. The trees, the leaves and their branches, seen from the inside, now burst into the artist's work showing their authenticity, without disguising themselves, showing themselves as they are.
STUDIES / PROFESSIONAL-Commissariats
• Bachelor of Fine Arts. in the specialty of painting by the University of Barcelona, ​​1996. • 150 art criticism articles, published (1997-2000)
• Management and Museology Seminar at the CCB, Barcelona (1997).
• Painting course at Kensington & Chelsea College in London (1995).
• Seminar on color, at the Eina School of Barcelona with an excellent grade. (1991-1992).
• Collaborator in the magazine "Proyecto Contract" Ediciones MC.
• Curator of COMUNICART '06, cultural project of the City of Sant Cugat del Vallés, for the "Night of Art".
• "Action Painting in Bussines" (2005-2014), training for companies (Sara Lee: Horny Mans, Sanex, Natren. Nivea, Danone, TMC ....)
• Collaboration with the fashion world. Foulares "we are both". Natalia Maragall, seamstress (2013/2014/2016).
• Curator of the Carles Taché exhibition, "Commitment to Contemporary Life" (2017), Maristany Art Center, St. Cugat, BCN.
• Curator of "White Summer '17 / '18 / '19 & Natural Consciences", Mas Gelabert Exhibition Space, Pals, Girona.
COMPETITIONS AND SELECTIONS
• Selected by the International Music Competition MARIA CANALS for the realization of the 65ª Call of the Poster of the same. 2019
• Selected by the Guild of Gallery of Catalonia for ArtMadrid (Catalog Edition) 2010. "The autumn of Art", Guild of Gallery of Catalonia "traveling through Spain.
• Selected for an artistic immersion project, in the Institute of Psychology, Collserola Foundation (2009) permanent work.
• Selected for the exhibition "Young Catalan Artists in New York" by the Generalitat de Catalunya, 2003.
• Selected for the 47th "European Exhibition of Young Creators of Montrouge". Itinerant: France-Spain-Portugal, 2002. Finalist in the Àngel Gelabert Fine Arts competition. "Casal Solleric" of Palma de Mallorca.
• Selected as a foreign artist for the Roman Spring of Contemporary Art in Rome, Gallery II Narcissus, 2002, Italy.
INDIVIDUAL EXHIBITIONS AND PROJECTS
• March 2021, exhibition at the Art Enllà Gallery, Barcelona.
• February 2020, exhibition at Galería Alba Cabrera, Valencia.
• 2019 March, Foyer Palau de la Música Catalana, Barcelona. February, Anquins Gallery, Reus, Catalonia.
• 2018 April, Santiago Rusiñol Gallery, Sant Cugat del Vallés, Bcn. Ormolú Gallery, Pamplona "What trees hide, natural anthropologies.
• 2016 "Tierra firme II", Ormolú Gallery, Pamplona, ​​Spain.
• 2014 "Everything is in memory. Subjective analysis of personal implications, of nature", El Quatre Gallery of BCN (May).
• 2013 Artwindows Gallery, Barcelona "The magic of segmented perceptions".
• 2011 El Quatre Gallery, (Granollers) "The forest of memories".
• 2009 Artistic immersion in the Institute of Psychology of the Collserola Foundation, Project "Archive of temporary thoughts" Barcelona. Comú d'Escaldes, Andorra.
•2001 "Live the light and color" young space of the Generalitat de Catalunya, Lola Anglada, Barcelona.
COLLECTIVE EXHIBITIONS
• 2020 Collective at Beauchamp Gallery, Canada-Quebec. The Art One, Pyrenees, Andorra. Artup! Fair, postponed to February 2021, with the Alba Cabrera Gallery in Valencia.
• 2019 March, June and September in Sala Nonell, Barcelona, ​​large format collective. May-June at LAPEK, Lesley Yendell Space. 5 artists on paper, El Penedés-Tarragona, "Espai liquid".
• 2018 August, Curation and participation WHITE SUMMER & Natural consciences, prenent consciousness, Pals-Girona.
• 2017 August, Curation and participation WHITE SUMMER & Natural Consciences, Pals-Girona.
• 2017 Collective at MH Art Gallery, Bilbao. "The February of Ormolú", Ormolú gallery, Pamplona.
• 2016 International Art Fair of graphic work and drawing on paper, MH Art Gallery: FIG Bilbao, GRALLES EXPERIENCE, selected for the group of realistic and figurative artists by the collector Juan Jesús Espina, Gralles Experience, El Penedés (Catalonia-Spain ). 30 Years-30 Artists, Galería el Quatre, BCN.
• 2015 Collective "Synergies" collective 7xset, Casa Elizalde of BCN. Collective in Galicia, curated by Cristina Carballedo Penelas.
• 2014. Madrid Art Fair, Galería el Quatre, BCN.
• 2013 ArtRoom Fair, Madrid, El Quatre Gallery in BCN. Madrid Art Fair, with the Galería el Quatre, BCN. Collective at Red Penguin Gallery, Marbella. 2012 Art Madrid, El Quatre Gallery in BCN.
• 2011 Autumn Festival, gallery guild, BCN in ArtMadrid.
• 2008 ArtMadrid Fair. 2007 ArtMadrid Fair. 2006 ArtMadrid Fair, El Quatre Gallery. 2005 Go Gallery, Amsterdam. DeArte Fair, El Quatre Gallery, Madrid. 2004 Collective in Rina Bouwen Gallery. Madrid. 2003 Collective in New York, Montserrat's Gallery, USA. Casal Solleric, Palma de Mallorca. DeArte Fair, Madrid. 2002 / 2001Supermercado del Arte, Vinçon, Barcelona. International Art Supermarket, Andorra. Gallery II Narcissus, Contemporary Art, the Roman Spring of Contemporary Art in Rome. (Italy)
RESIDENCE
• 2019 The 6th International Burullus Symposium For Painting on Walls and Boats Egypt 2019. Project in conjunction with United Nations of Egypt, UNFPA, October.
• 2016 MAC. A, Briech Beach, -Assilah, Morocco.
PUBLICATIONS
• DeArte '07, Feria de Galerias Españolas, II Edition. Madrid. 2006 "10 Years of the Gausacs Magazine", Sant Cugat, Covers. 2004 DeArte, Feria Madrid, III Edition, Atelier Gallery, Barcelona. 2003 Catalan Young Artist in NY, USA. DeArte, Feria Madrid II Edition, Atelier Gallery, Barcelona 2003 Figuration 2002-2003. Tuset Gallery Editions. Barcelona. A.R.G.A.M. 2002. Editions Roman Association of Modern Art Galleries. 47th Montrouge Exhibition. European Exhibition of Young Creators, France 2002.
For more information on the fine arts Tatiana Blanqué at Espai Cavallers Gallery