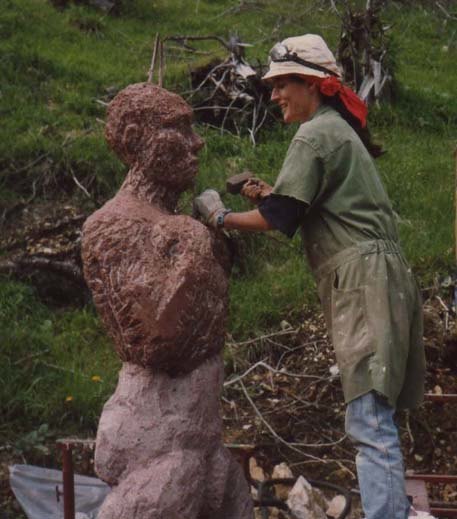 The artist Marta Pruna was born in 1970, and is dedicated to sculpture. She graduated in Sculpture from the Faculty of Fine Arts. He also studied at the University of Art in Linz, during 1994. Between 1997 and 1999 he did his PhD at the University of Barcelona.
Since 2001 he has lived and worked in his workshop, near Cervià de les Garrigues.
In 2017 he inaugurated his personal project "Camí dels 7 sentits". A path that has 15 sculptures, some of a monumental format. Distributed by a path in the middle of nature, 2 kilometers from Cervià de les Garrigues.
INDIVIDUAL EXHIBITIONS
The artist Marta Pruna has participated in several solo exhibitions. Exhibition at the Franz - Josef Promenade Space, in Bad Gastein, during the "Soommer Frische Kunst", Austria (2018). Exhibition at the Lime Center, "Center for Art and Sustainability", Artés. (2016). Exhibition at the Galeria Artería, Igualada (2015).
COLLECTIVE EXHIBITIONS
The artist has also participated in several group exhibitions. Exhibition at the Granadella Museum, with the photographer Ramon Coronado. (2018). Exhibition at the Juneda Art Center. With the artists, Gregorio Iglesias, Ivan Egea, Vaxier Minguella. (2017). Exhibition at the Public Library of Lleida, with drawings by Ramon Llull. (2016). Exhibition Espai Cavallers Lleida Gallery (2014/2015).
AWARDS
The artist Marta Pruna has received a large selection of awards over the years. Sant Jordi Prize for Sculpture, from the Parelló Foundation. (2015). The 2nd Prize for Ice Sculpture at the University of International Architecture of Catalonia, Barcelona (2000). The XXII National Sculpture Contest (Caja Madrid). (1998).
PRIVATE COLLECTIONS
His work is also part of several private collections. Private Collections Bertoll Villa, Austria. Antoni Vila Casas Foundation, Barcelona. Bad Gastein, Frankfurt am Main.