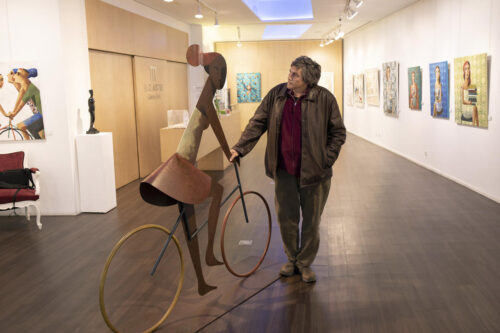 The artist Didier Lourenço was born in Premià de Mar, Barcelona, ​​in 1968. In 1987 he began working in his father's workshop where he learned the art of lithography. In 1995 he moved to his own workshop.
TRACK
In 1988 he had his first solo exhibition and published the first collection of lithographs. Didier Lourenço shares his time painting on canvas and paper in an area of ​​his father's workshop. Make and print your own and also for other artists. This place will be a study open to the gaze of many artists and an exchange of knowledge that will be very important for their education in the world of painting.
In 1991 he won a prestigious painting prize for young painters. This is the time when his work begins to be well known through different individual and group exhibitions in different galleries in the country. In 1995, Didier Lourenço already settled in his own studio and it is the moment in which it is dedicated totally to the painting, without leaving of side the lithography.
In the year 2000 a prestigious publisher and worldwide distributor of graphic works became interested in his work.
From then on his works can be seen all over the world. This dissemination allows many galleries from all countries to also be interested in his original work. He has exhibited his work in cities such as New York, Seattle, Los Angeles, Hong Kong, Puerto Rico, New Orleans, Nashville, South Africa, Las Vegas and Miami among many others.
EXHIBITIONS
He has participated in several solo exhibitions such as: "Com a casa" Sala Premiart, Premià de Mar (2013). "Containers of Emotions" Jordi Barnadas Gallery, Barcelona (2012). "Nostrum" Galeria Ausart, Vi (2011). "Recent Work" Anquin's Gallery, Reus (2010).
He has also participated in groups such as Sala El Quatre, Barcelona (2013). "40 May Hall" Anquin's Gallery, Reus (2012). "39 May Hall" Anquin's Gallery, Reus (2011). IFAE Miami International Art Fair, Art Village (USA) (2010).
For more information on the Painter Didier Lourenço at Espai Cavallers Gallery