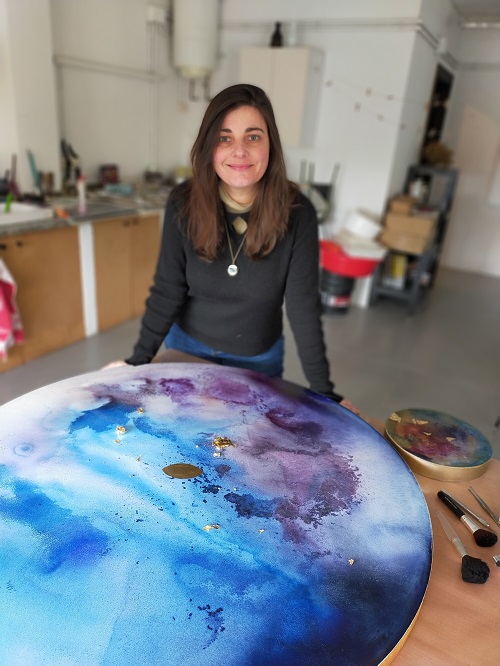 The artist Aurembiaix Sabaté was born in Bell-lloc, (Lleida) in 1980.
He studied Advertising Graphics at the Ondara School of Arts and Crafts. Also Arts Applied to the Wall at the Massana school in Barcelona. He runs the Socrates / Erasmus program in Hungary, at the "Magyar Iparmüvészeti Egyetem" Faculty of Art. In 2006 he also studied engraving techniques and glass techniques at the School of Arts and Crafts of the Barcelona Provincial Council. He currently resides in Solsona.
WORK
Aurembiaix Sabaté's work is full of symbolism and a mixture of ideas, beauty and poetic content. With a predilection for painting and engraving on various media, the artist is interested in both cognitive and spiritual dialogue between human beings and their environment.
The artist also offers us some keys to delve into his work:
The impulse that guides me to discover the true essence is manifested in the creation of the series of works "Transformation and Alchemy." Inspired by alchemical literature and a series of symbolisms, a part of Greek mythology and Japanese mythology, the form emerges, figures that blur as I delve into what is deep.Darkness, descend into the interior of the cave itself, to ascend to the sky and light.All sustained by the circle, the perfection of the four elements, which is dense and subtle, always in continuous cosmic harmony "
INDIVIDUAL EXHIBITIONS
Anquin's Art Gallery, Reus. (2015), Teknon's Ars et Scientia Program, Memorial Gallery, Barcelona, ​​(2013). Issim Solsona Gallery, (2011). CAATB Art Space, Barcelona Association of Surveyors and Technical Architects, (2008).
SELECTION OF COLLECTIVE EXHIBITIONS
Tarragona Museum of Modern Art, Art Biennial (2014). Department of Culture of the Generalitat in Lleida, Meetings in Contemporary Art. Pinnae Foundation, Caixa Penedès Culture Classroom, (Anquin's Gallery, 2014). Convent of Sant Bartomeu de Bellpuig. Sant Jordi Fine Arts Painting Prize (2014). AFFORDABLE ART FAIR, Brussels, Anquin's Gallery, (2014). Univers Femeni, Espai Cavallers Gallery, Lleida (2020).
AWARDS AND RECOGNITIONS
Selected for the Salou Prize for pictorial research (2014). Selected at the art biennial (Tarragona Modern Art Museum, 2014). Fourth Honorable Mention in the Sant Jordi Fine Arts Prize of the Catalan Countries (2014). Selected for the IX NATIONAL CONTEST OF CONTEMPORARY PAINTING "Casimiro Baragaña", (2013). Finalist XIV "MIQUEL VILADRICH" INTERNATIONAL PAINTING PRIZE, 2013.
For more information on the Artist Aurembiaix Sabaté at Espai Cavallers Gallery