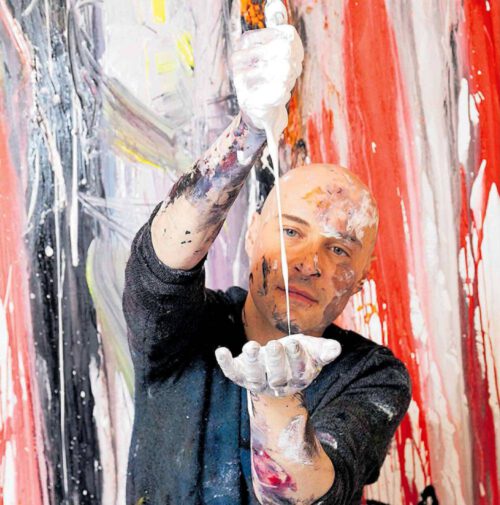 The artist David Callau was born in Tarragona in 1973. He studied at the Tarragona art school. He later studied fine arts at the Massana school in Barcelona, ​​where he specialized in painting.
WORK
David Callau's work reflects a more poetic characteristic that can be perceived in the vividness of the color and the stroke that he uses in his pieces. As he himself explains to us, his work methodology is linked between a spontaneous and spiritual factor:
"I observe this reality to transform it and draw it, abandoning all the established norms. I do not take a concrete line, I only let myself be carried with my strokes. In these let me be carried, I investigate, I transmit, I suffer and rich, everything to surpass me.In the study the passage of time follows its course.
My roots, my beginnings, my teachers: always my grandparents. In this kitchen of life everything is mixed with a great dose of spirituality. They make my creation follow in the footsteps of the most ancestral teachings.
My philosophy? To transmit the world of today and tomorrow the infinity of experiences, sensations, destinations, colors and to create an own world through the canvases, sculptures and installations ".
EXHIBITIONS
He has exhibited in national and international galleries (Belarus, Germany, London and Rome, among others) and has been awarded the second prize of the Revista Vestidal Moda y Art de Madrid (1995), he won the Vila de Cambrills local promotion prize. (2003) and won the Success Award. Cambrils in 2006. As individual exhibitions we can highlight: "Stage bolshoi theater" Moscow (2019), 2020, IN/Tacte, Galeria Espai Cavallers, Lleida (2021).